ReachOut is a suite of marketing tools that include the marketing automation platform, web analytics and a CMS. ReachOut Analytics is a Google-Analytics alternative focused on privacy and security available to all customers.
---
Introduction
ReachOut is a hosted web application for marketing organizations looking at building multi-channel digital marketing campaigns backed and focused on user data. ReachOut CMS is a hosted CMS backed by a PostgreSQL database with a configurable schema, multiple tables and relations. An Enterprise-level offering is available for Enterprise-grade security and privacy. Marketing campaign mplementation services are available through ReachOut Marketing plans starting at $1,495.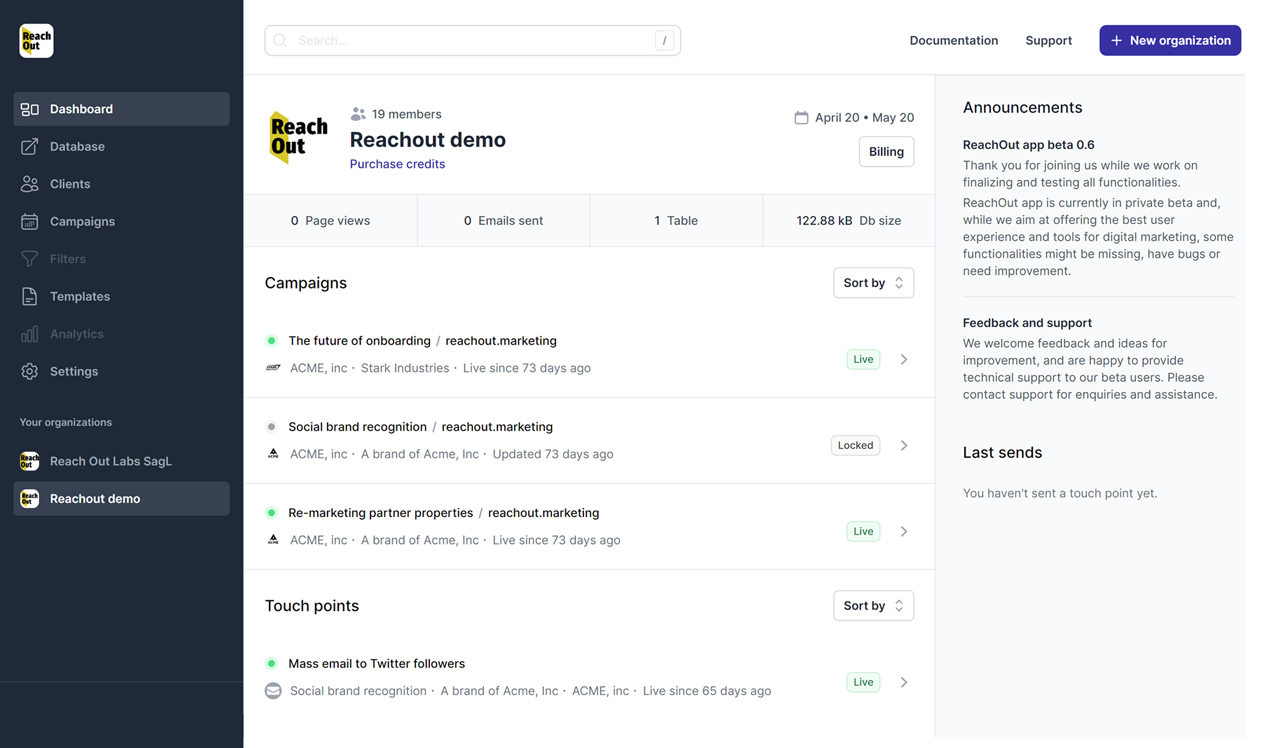 ReachOut Analytics is part of the ReachOut platform and allows website owners to deploy privacy-respecting, first-party analytics using our Javascript, React or Node proprietary libraries. The data collected is stored in a dedicated, encrypted marketing database that can be accessed from a Business Intelligence tool or visualized in the ReachOut application.
ReachOut Pricing
ReachOut has no monthly cost or commitment and includes unlimited data storage for your campaigns. As such, there is no trial and you are welcome to open an account, create an organization and start experimenting with the CMS and uploading data.
ReachOut usage is billed by the last 30 days' volume and is invoiced on the 20th of each month.
Emails are billed at $10 / 1,000 emails sent. ReachOut allows to send mass email campaigns, newsletter email campaigns, transactional emails for filtered automatic sends and triggered emails sent by any event executed on your web pages.
Web page views are billed at $5 / 1,000 web page views. Views are billed for each page view where the ReachOut Analytics library is installed and collecting data or fetching dynamic content for personalization from the CMS.
Marketing Automation
ReachOut is built with a multi-customer and multi-brand logic to allow large marketing organizations and marketing agencies to easily manage campaigns for multiple customers and brands at once. The dedicated infrastructure includes a database schema that allows to create an unlimited number of tables with custom field schemas and data types, create relationships and configure the CMS to present data in any format including dates, places, dropdowns and more. All the database tables are available to the organization so that user data and supporting tables can be used across multiple campaigns and touch points.
When a user first sign ups a default organization is created and the user is assigned the role of organization administrator. This role can invite other users to join the same organization, as well as create more organizations to segregate campaign data.
Each organization can have an unlimited number of clients and at least one client is required. Generating clients allows to create campaigns that are associated to a specific client only, bringing in configurations automatically and allowing to create reports on the usage volume per client to facilitate marketing agency billing.
Each client can have an unlimited number of brands and at least one brand is required. Adding brands allows to keep assets, domain configurations and other visual template configurations separate as well as to pull brand information into templates for easy customization.
Implementation support
Our approach to digital marketing is based on user data for enhanced communication personalization. We support the approach of enhancing and personalizing the user journeys through multiple data points to improve relevancy and conversions. Most marketing teams have solid implementation capabilities in HTML / CSS and React but - when it comes to structuring data, integrating CRMs and ERPs, or building complex logic websites - then ReachOut Marketing services are a great option to get started or keep growing.
ReachOut Marketing is a one-of-a-kind productized service offering unlimited marketing campaign implementation support on a fixed monthly fee for unlimited requests.